2013 Alumni Open House
On September 21, 2013 the Law Review hosted its second annual Alumni Open House in our office in Biolchini Hall. It was an eventful occasion complete with mimosas, star-studded alumni, and a Notre Dame win.
A few of the alumni in attendance included Alexis Zouhary, a Jones Day associate, Professor Patricia O'Hara, and John Burns, a partner at Faegre Baker Daniels. We hope to continue this tradition year after year and look forward to seeing all of the Law Review alumni at next year's Open House.
Make sure to read the Law Review Spring Newsletter for the date of the 2014 Alumni Open House!
Scroll down for a few pictures taken at the event!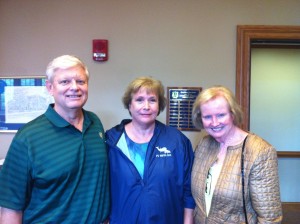 John Burns '74 and his wife with Professor O'Hara '74
Veronica Couzo '14, Mary Megan and Joe Florczak '13, Patrick Cassidy '14, Jon Heintz '14
Kevin Murphy '14 with Law Review alumni
Chris Kieser '13, Patrick Cassidy '14, Eric Hinz '13
Blair Warner '15 and Mary Shepro '15